YOUR CART IS EMPTY
Tax included and shipping calculated at checkout
perfume family
AUTUMN PERFUMES:
THE SCENT OF AUTUMN
Short days turn into long nights, there is a creeping chill in the air and a gradual turning of the leaves. The signs that herald the start of autumn usher in new opportunities for perfume and fragrance selection. The scent of change comes from more than just the different autumnal influences in the air, it is also the perfect time to introduce deeper and warmer autumn perfumes into your palette complimenting the colours of the season and winter fashions. The best warming scents for autumn can provide you with an infinite number of aromatic possibilities.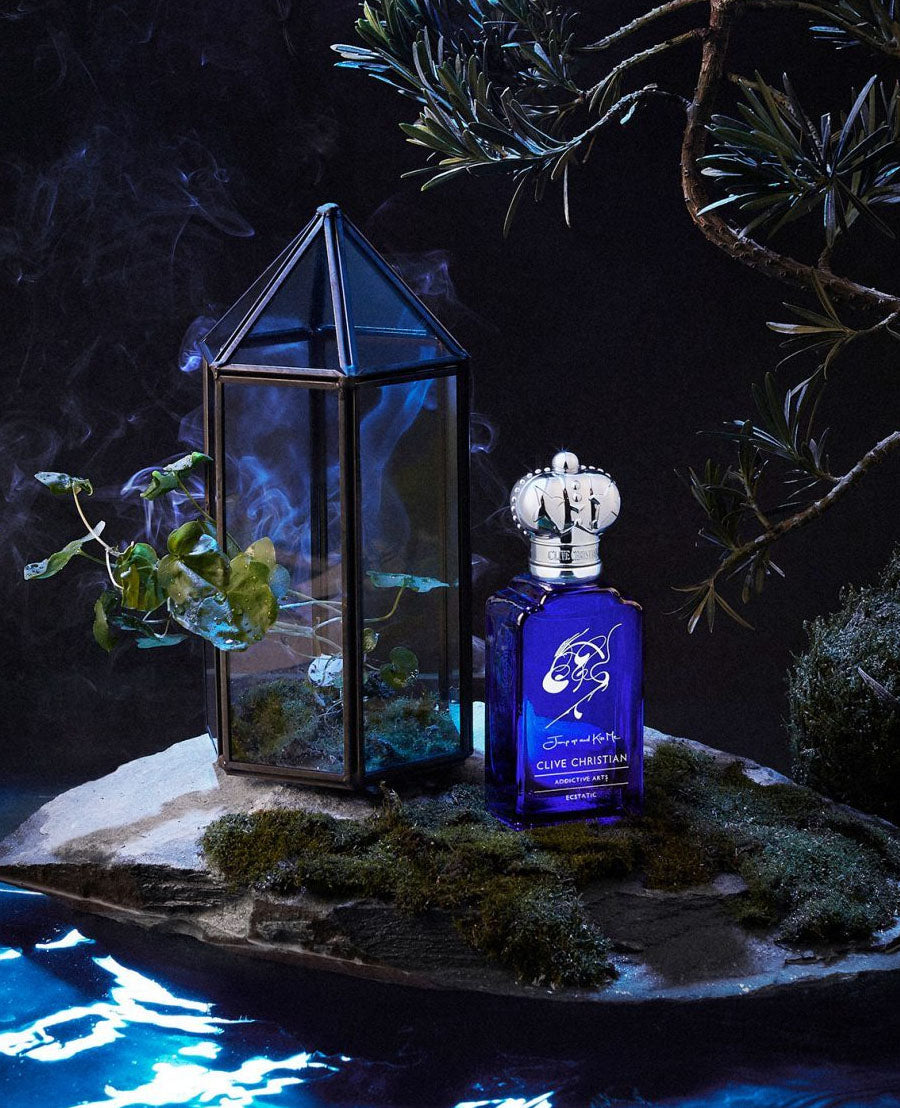 CLIVE CHRISTIAN AUTUMN PERFUME
Some of the best autumn perfumes might contain indulgent spices such as cinnamon, vanilla and clove complimented with golden rich ambers or comforting cashmere-like musks. The perfect companion for cooler autumn days.

Look for deeper wood tones with dry warmth to channel the feeling of roaring fires and woodland walks, wrapped up from the cold. Heavier and more complex autumn perfumes with a greater quantity of base notes are perfect for this time of year, allowing a long and steady release on the skin. The base notes are the last of the perfume notes to be released on the dry down after the more vibrant and flighty top notes have evaporated from the skin.

Autumnal scents from Clive Christian Perfume come with an unparalleled complexity of over 140 ingredients and at least a 20% fragrance oil concentration which means your perfume will last up to and over eight hours on the skin with different notes activated throughout the day. This unique cocktail will leave autumnal ingredients glowing on your skin.

The perfect woody base ingredients come from a variety of sources; from cedar which resembles pencil shavings, oudh which comes from agarwood and guaiac wood which imparts an aromatic autumn scent. Clive Christian has created some of the finest woody perfumes. Not just using trees but also grass and plant-based ingredients such as patchouli for an incense spiced twist or vetiver for an earthy muskiness, all of which contribute to a woody character, perfect for the Autumn season.

At Clive Christian, we have a wide variety of approaches to autumnal fragrances, so you will be sure to discover something special that is perfect for you. Perhaps you might enjoy bright bergamot to revitalise you as the days get colder, or perhaps a soft and comforting note of oakmoss to bring you warmth and romance this season.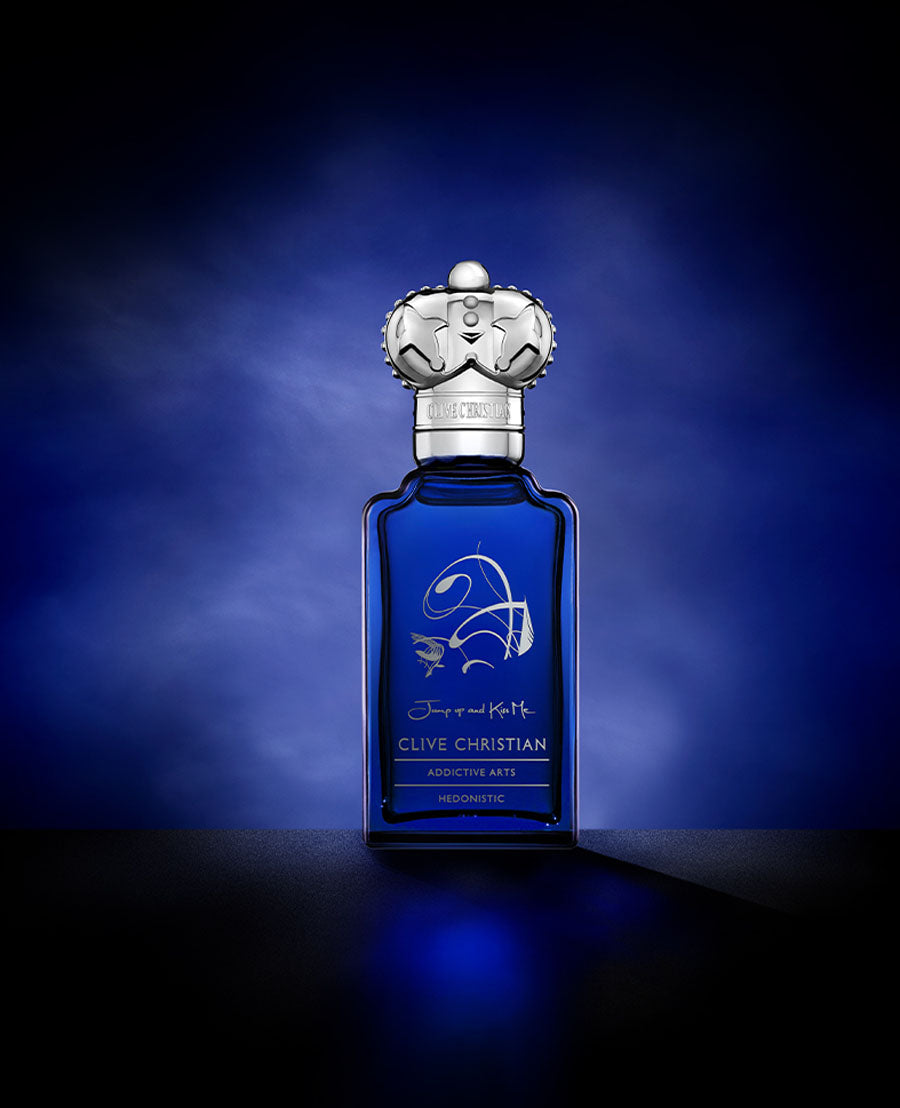 TOP AUTUMN PERFUME AND SCENTS
Our top picks of autumn scents are available across our amazing collection of perfumes.

Discover the Noble VIII Rococo Immortelle perfume, with its unique and spicy warmth this scent resembles the turning of the leaves to hues of yellows and burnt oranges, whilst key ingredients gives a smoky-sweet turn, making it a flawless choice for your autumn perfume.

The X Pair of Perfumes with their rich opulence, exotic spices and comforting musks make the perfect pair of autumn perfumes for men or women. This romantic duo of perfumes, available in masculine and feminineeditions will draw you in and energise you with vibrant fruity chypre notes and rich spices and woods.

Enriched with top notes of sparkling pink pepper and spicy nutmeg, a heart of smoky tea, and an opulent base of ambers and musk, new Matsukita, is a warm and complex fragrance that embodies the autumnal months.

Part of our Addictive Arts Collection, Jump up and Kiss Me Hedonistic is a perfume lovers favourite as we approach the cooler seasons. With its oriental woody base, this popular scent is rich with ambers, smoky leather, resinous Labdanum and a touch of edible gourmande notes to fill any room with an air of alluring autumnal scent.

Private Collection V Amber Fougere, gives a powerful icy blast of lavender mixed with peppery notes to give the perfume a lively character. As the colder weather sweeps in, frankincense and elemi wrapped in bright bergamot gives a sweetness and warmth just like a roaring fire.

Another perfect perfume for fall is the new Crab Apple Blossom, part of our Crown Collection. A fresh, energising citrusy yet soft perfume exploring 151 ingredients and a potent concentration of 25% for a lasting scent that will unfold gradually on your skin like autumn leaves slowly changing colour as the air gets cooler.