YOUR CART IS EMPTY
Tax included and shipping calculated at checkout
perfume family
SPRING IN A BOTTLE
Warmer days and more sunshine rays are slowly making their appearance on the horizon after the dark winter cold. One way to welcome the change of seasons is with a shift in fragrance, leaving behind heavier notes and embracing something lighter, with floral, woody, and aquatic notes. Clive Christian's collection of spring perfumes brings together the ideal scents for those warming, longer days we're all longing for. Discover the scents of spring and your new favourite fragrance – we've gathered all our spring picks in this article to make choosing one a breeze.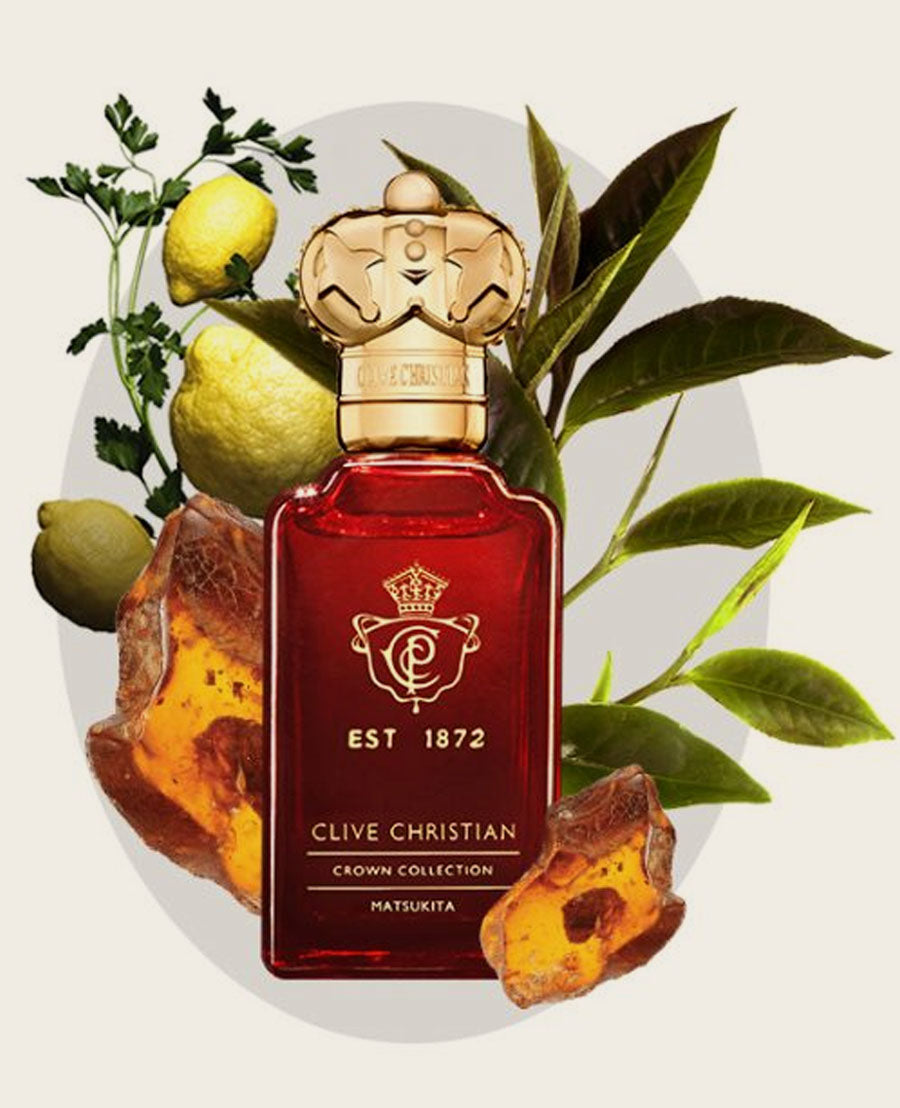 CLIVE CHRISTIAN'S BEST SPRING SCENTS
MATSUKITA
Welcome spring with an extraordinary new scent from Clive Christian. Recently launched, Matsukita is the latest perfume to join the exclusive Crown Collection. It embraces the freshness of Bergamot while grounding it with warming Amber and a touch of smoke, offering universal appeal.

Sparkling Bergamot meets fiery Pink Pepper for a refreshing opening. Middle notes of Jasmine and Mate tea form a smoky and floral heart. The finish is all whispering Musk, Amber, and Fir Balsam, settling into a woody and rich base. Together the notes create an impression of the ideal spring day: sunny and fresh to start and warming up as the hours go by.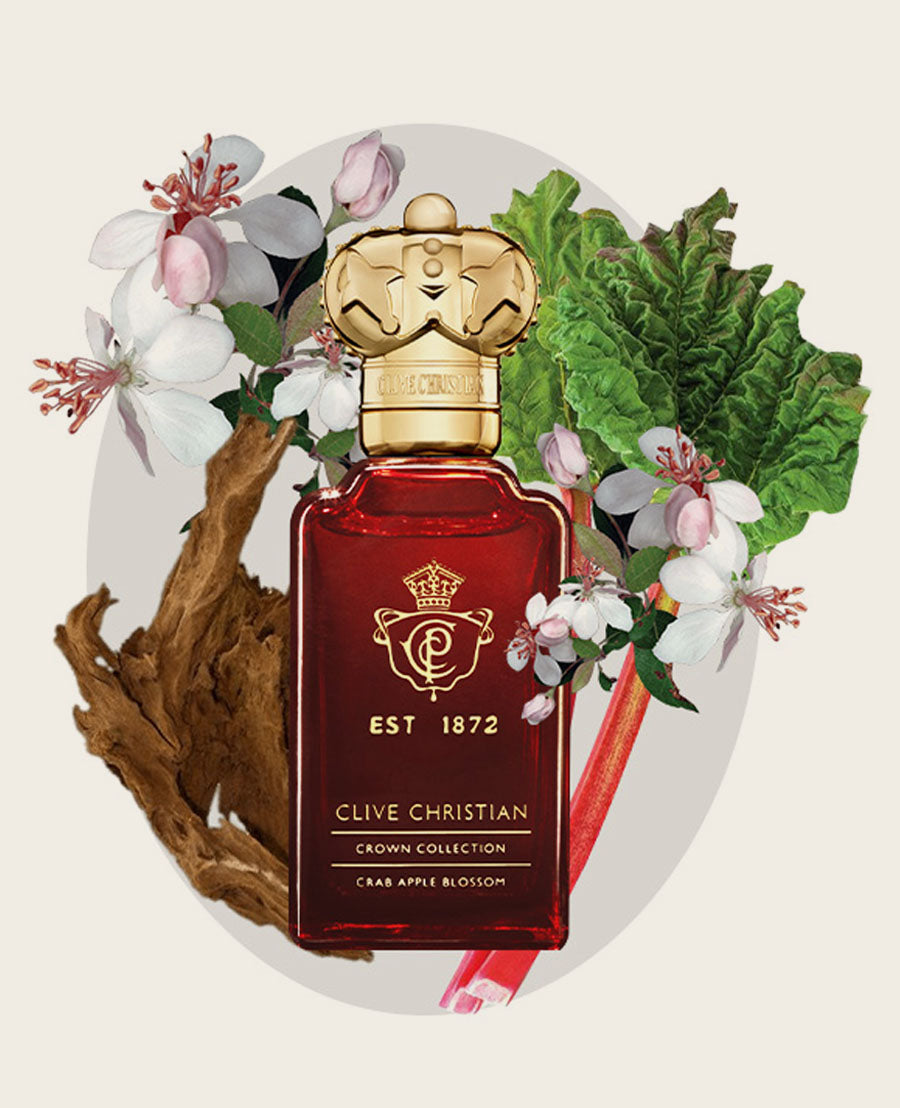 CRAB APPLE BLOSSOM
If you're looking for a scent reminiscent of a walk in the park during the most beautiful day of spring, then the Crab Apple Blossom fragrance is sure to delight

Effervescent top notes of Apple Blossom and Marine Bergamot create a bright first impression, whilst a tart pop of Green Rhubarb in the heart transports you to a quintessential English garden. A touch of both sugar and mint meets delicate white florals before transitioning to a woody foundation.

A creamy and sophisticated base of Sandalwood, Amber and Driftwood underpin the scent for a modern yet sensual feel, making it the ideal choice for both day and night.

A creamy and sophisticated base of Sandalwood, Amber and Driftwood complements the lighter top and heart of the perfume with a modern yet sensual feel, making this scent your new spring perfume.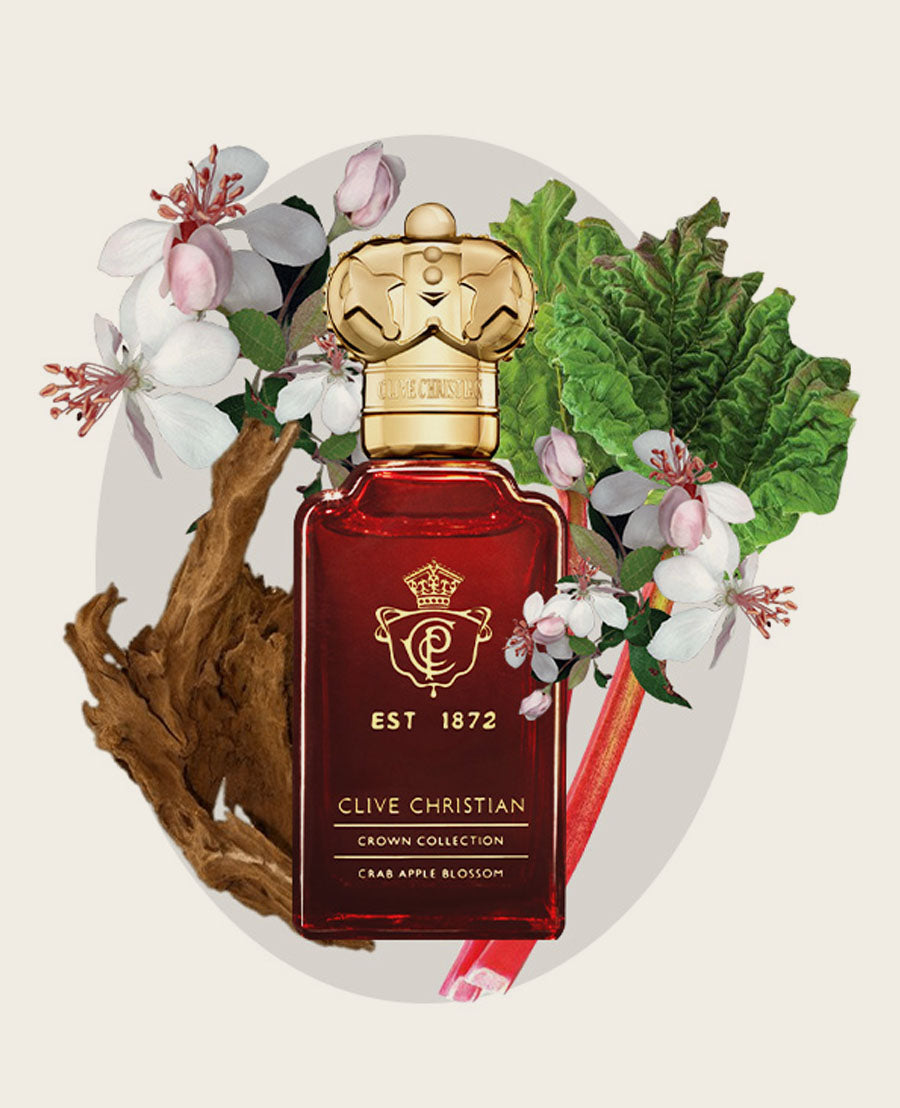 1872 FEMININE EDITION
Bright and refreshing, citrus-based perfumes are always a great idea as the weather transcend on to warmer days.

Clive Christian's two editions of 1872 capture the bright and crisp top notes of zesty citrus, pairing them with a woodier base.

The perfumes are reminiscent of gently warming days and forest-like freshness.

Spicy notes mark the opening of 1872 Masculine Edition perfume, with Black Pepper and Nutmeg meeting the freshness of Rosemary, Citrus, and gentle touches of Peach, Lavender, and Petitgrain. Bright and vivacious, they draw the senses in, before revealing a warmer and more complex profile.

The middle is all about Clary Sage, a woody and herbaceous accord, infused with Jasmine and Musk, that gives an energising feel. Finally, Sandalwood and Cedar are enhanced by the intensely fresh Freesia at the base, transporting the wearer to a sunshine filled day in an enchanting forest.

The 1872 Feminine Edition opens with iridescent top notes of Bergamot, supported by sweet touches of Pineapple and Blueberry. The heart of the scent owes its richness to Rose De Mai, a floral treasure that only blooms in the month of May. 170 rose heads are needed to produce a single drop of pure oil.

Lily of the Valley, Freesia, Jasmine, and Orchid come together with the precious Rose De Mai to create a floral explosion, not unlike the scent of a spring garden in full bloom. Patchouli forms the base of the fragrance together with hand-harvested Oak Moss, Sandalwood and Cedar, adding a welcome warmth and earthiness.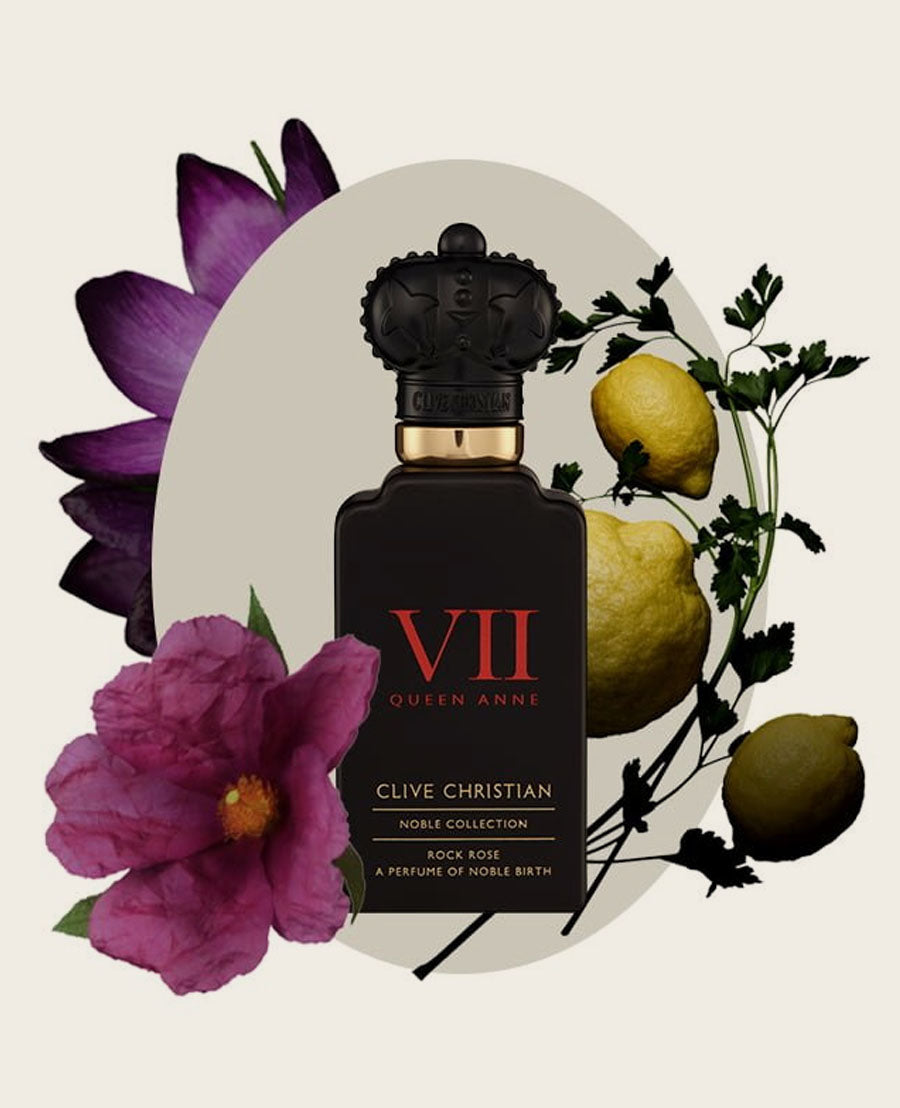 NOBLE VII ROCK ROSE
The powerful Nobile VII Rock Rose is a modern reinterpretation of a Leather Fougere, rendered softer with spice and florals. Its complex structure makes it an opulent option, perfect for heady spring nights.

Tarocco Orange – the top note of this perfume – is a classic spring note thanks to its intense sweetness. Featuring uplifting of Lavender, Rock Rose, Jasmine, Violet, Coriander and Clary Sage, the fragrance reminds us that the cold is not all gone, but that the fresh mornings will soon give life to sun-starved greenery.

At the base note we find warming, golden Saffron, also known as 'King of Spices'. It infuses the scent delicately, creating a warm and spicy dimension. Together, the spice marries with the middle resinous character and subtle touches of Amber and Musk, which makes the fragrance a versatile one, loved by men and women all over the world.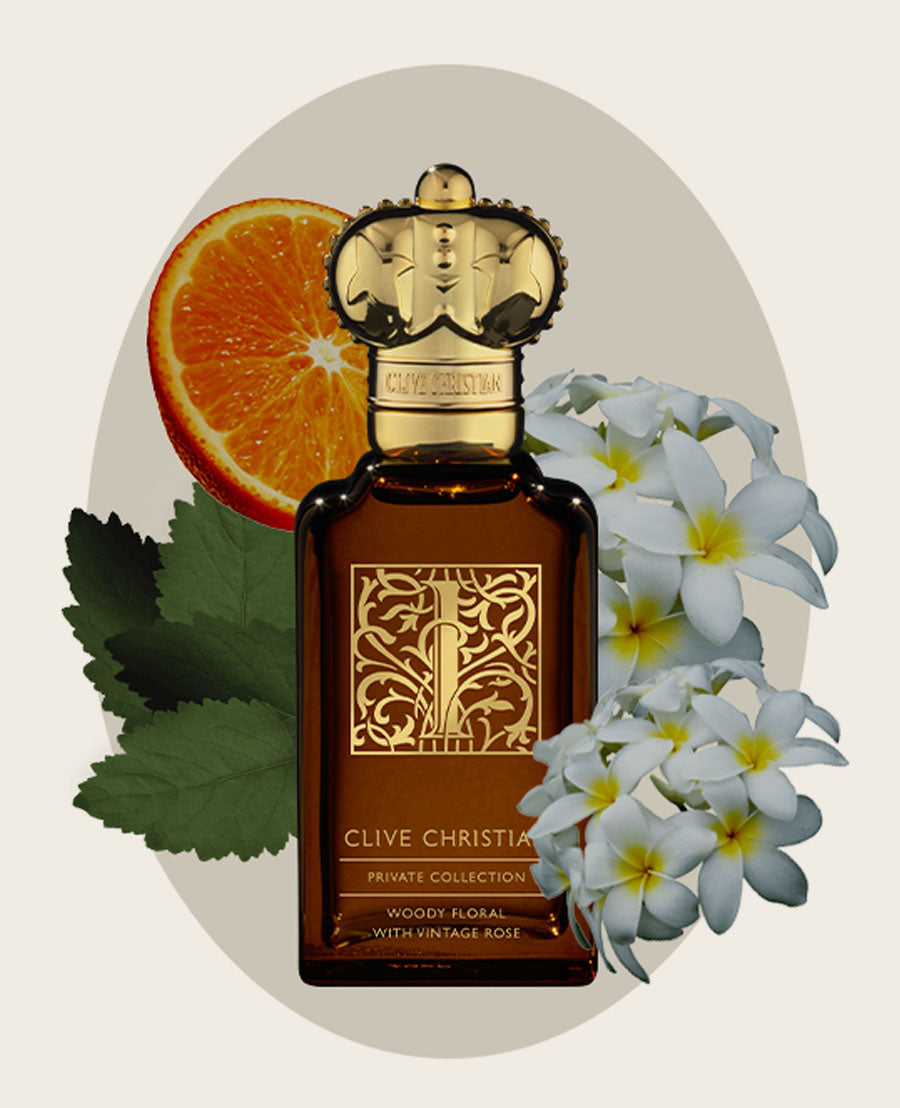 I WOODY FLORAL
I Woody Floral might be the quintessential scent of spring. Perfect for any occasion, it's as comfortable at the office as it is at dinner afterwards. Energetic and original, its unisex appeal becomes apparent from the very first spritz.

Opening with brightness, the perfume first offers notes of juicy Mandarin for a sun-ripened effect. Next comes a heart of intoxicating Jasmine. The delicate flowers can only be picked at dawn to preserve their freshness; one tonne produces just 1.5kg of the perfume oil. As the hours pass, the base of the perfume is revealed – a smoky touch of Oud, the woodiness of Patchouli, and a hint of Muguet.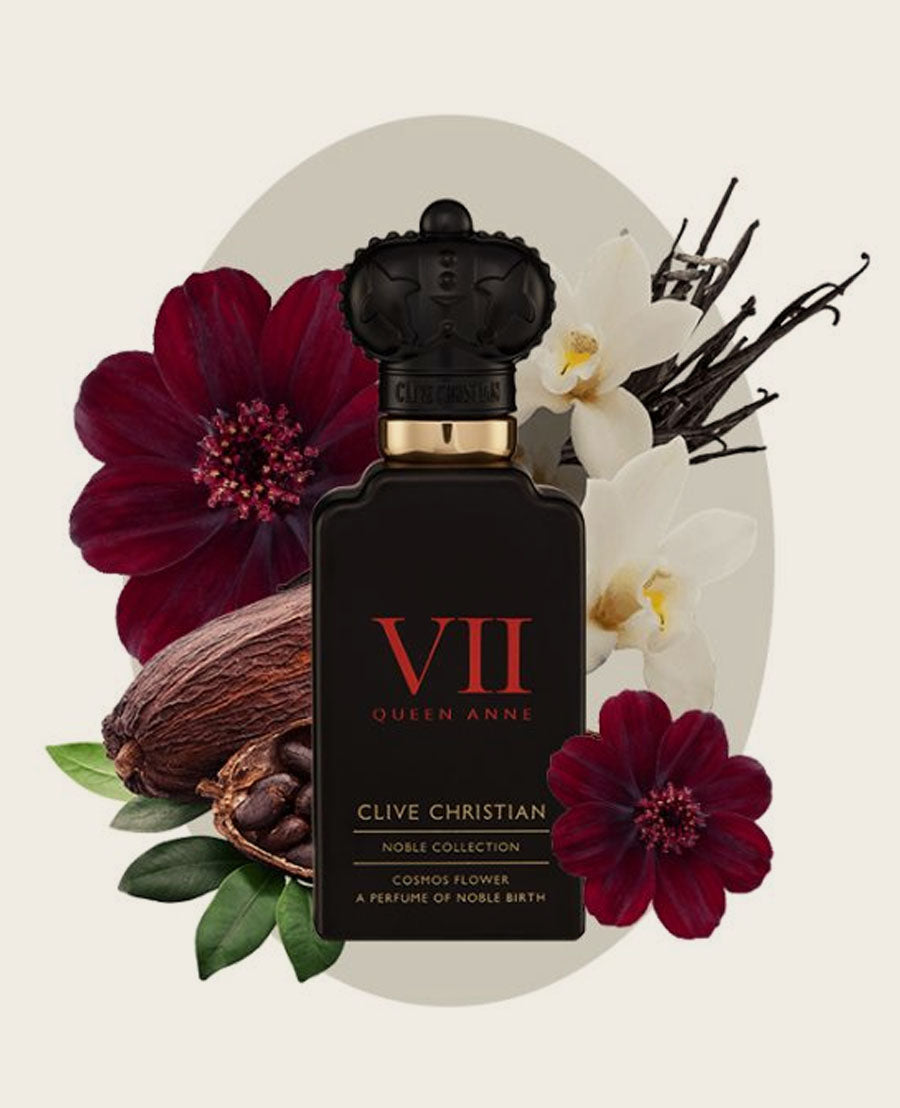 COSMOS FLOWER
The Cosmos Flower fragrance reveals the darker side spring, with a depth not typically found in Fruity Gourmand scents. It's the impression of a luxurious orchard at night after the heat of the day, marrying sumptuous florals and juicy fruit accords.

Sharp lemon notes introduce the fragrance, a hint of the delicious journey that's about to unravel. Cosmos Flower is at the heart, replicating the rich warmth of chocolate, with a bitter edge that balances sweetness. Finally, it dries down to its Benzoin base – its resinous nature lending the scent a further intensity and spice, akin to Vanilla. The fragrance has fantastic staying power, from day all the way into the evening.

Are you feeling inspired? Shop Clive Christian's collection of the best spring fragrances and usher in the season with a new scent.