YOUR CART IS EMPTY
Tax included and shipping calculated at checkout
new launch
The Perfect Cup of Tea:
A Unique Partnership
with Newby Teas
Clive Christian has collaborated with luxury tea brand
Newby Teas
, pairing some of the
most loved perfumes
with their tea counterparts.
Taste and smell are intimately entwined. Both are strongly connected to memory and have the power to trigger a vast array of emotions and feelings; from nostalgia to desire, excitement to relaxation.
These unique teas have been specially created for Clive Christian by Newby's master tea taster, and combine notes found in the bestselling Clive Christian perfumes from the most loved Original Collection.
Tea And British Tradition
Renowned and loved all over the world, the popularity of tea as a drink is only outranked by water. Its
history dates back to 2000BC
, when it was used as a medicinal herb rather than a beverage.
Tea was first brought to Britain in the 17th century, by the East India Company. It was an expensive product and often kept under lock and key.
Since then, it has gradually become established as the most quintessential of British pastimes. From the first cup of English Breakfast in the morning, to a traditional afternoon tea, the British have been refining their daily cup for centuries.
This simple ritual is the result of hours of skilled craftsmanship, from the planting of the seed to the packaging of the final product, many complex steps are executed perfectly to create a delicious cup of tea.
High altitudes are optimal for producing top quality tea, and undulating tea gardens are often found on mountainous terrain. Bolder blends, such as English breakfast, can be sourced from lower ground.
The best tea is picked from the 'first flush', the early shoots after a dormant winter contain the highest levels of nutrients and produce a refined, more delicate tea with maximum fragrance.
Newby Tea 
Newby is the world's most awarded luxury tea brand
, founded in London at the turn of the millennium with a mission to reintroduce quality tea and revive the world's love for it.
Newby guarantee quality by using the finest available tea leaves, those from the first and second flush hand-picked in the prime season from March to July. Only the top bud and two leaves are used, known in the industry as 'fine picking'.
Newby's tea tasters evaluate thousands of cups from a selection of different gardens, choosing only the season's best harvests.
Once the best leaves have been harvested, it is the turn of Newby's tea masters to create the perfect blend.
Their encyclopaedic knowledge and of taste and deep understanding of how the tea was grown and processed is used to divine the optimum balance of flavour, colour and body in each cup of Newby tea.
The tea masters can identify desirable attributes of teas from different gardens and determine their compatibility with others to create the perfect cup.
Newby Tea And Clive Christian
Both Newby Tea and Clive Christian produce carefully curated and blended products, created by masters in their own field. Scent is so personal, and those drawn to a particular type of scent are likely to reach for a tea with similar qualities.
Fragrance is broken down into top, heart and base notes. The same rule applies to tea. When teas are blended, it's not done arbitrarily; different notes and qualities that knit well together are sought out.
This special collection represents a collaboration between the world's finest teas and the world's finest perfumes and is sure to inspire a new appreciation of both tea and scent combined.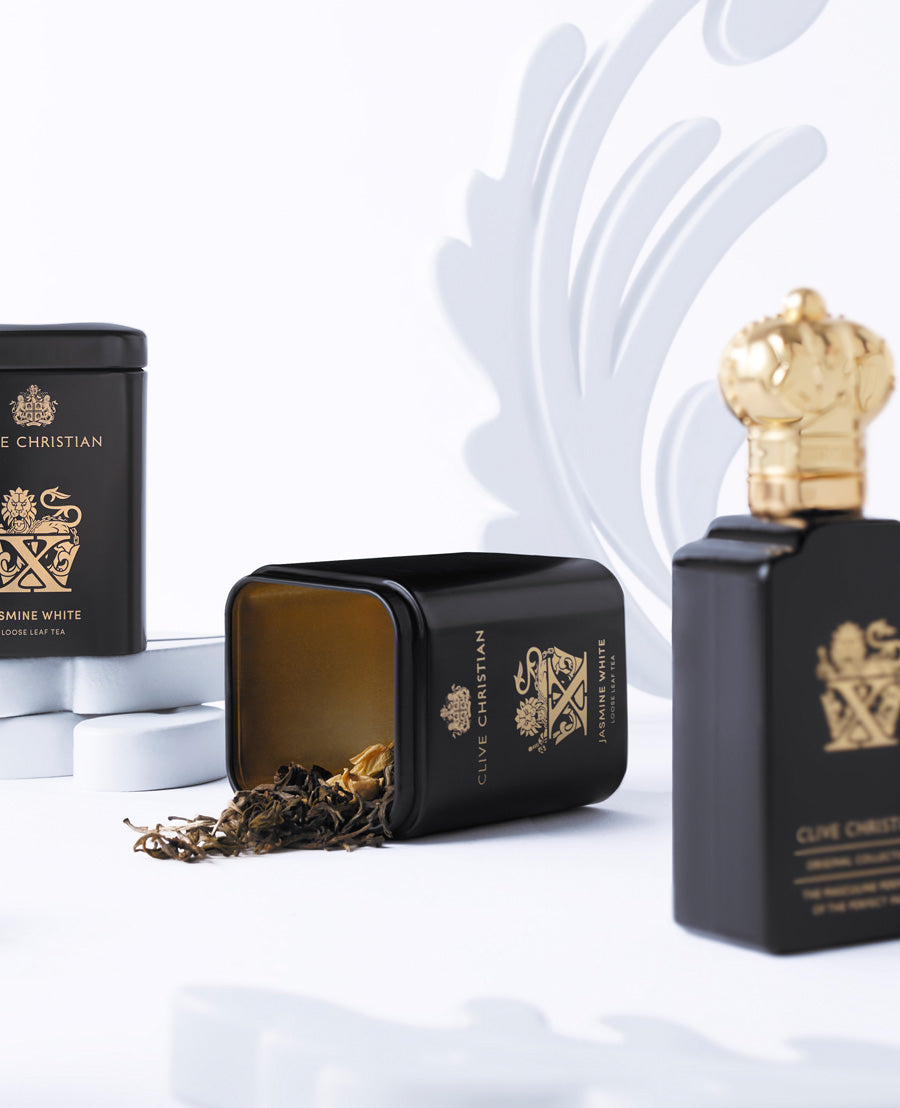 Clive Christian's Tea
The three teas in the Clive Christian collection share fragrance notes with the much loved
Original Collection
perfumes; 1872, X and No.1.
Jasmine White: Inspired by Clive Christian X
An earthy, aromatic blend of tippy white tea and spring harvest green tea is infused with the scent of fresh night-blooming jasmine. Jasmine is the key heart note of
X Feminine
, alongside natural peach notes, whilst the earthiness is representative of
X Masculine
.
White tea is one of the most delicate varieties, and is harvested before the tea plant's leaves fully open; the young buds are still covered by fine white hairs after which they take their name.

Jasmine White produces a light honey-yellow cup that exudes the aroma of fragrant jasmine, and is sweet with a lasting fruity finish. Jasmine flower tea is amongst the oldest of traditional Chinese teas.

These rare, honoured teas were cultivated often in secret in the tea gardens of early Chinese imperial dynasties (between 600 and 1300 AD).
Ancient Chinese poets referred to these special teas as being, "white like the clouds, green like a dream, pure like snow, and as aromatic as an orchid."

Green teas undergo a stage of processing that stops oxidation, ensuring colour and nutrients are retained. Heat is applied to the freshly picked leaves, destroying the enzymes responsible for oxidization, a process called 'fixing'.

Green teas are very high in antioxidants, which are beneficial for anti-aging. The spring picked leaves used in Jasmine White are packed with nutrients and have the most sophisticated flavour.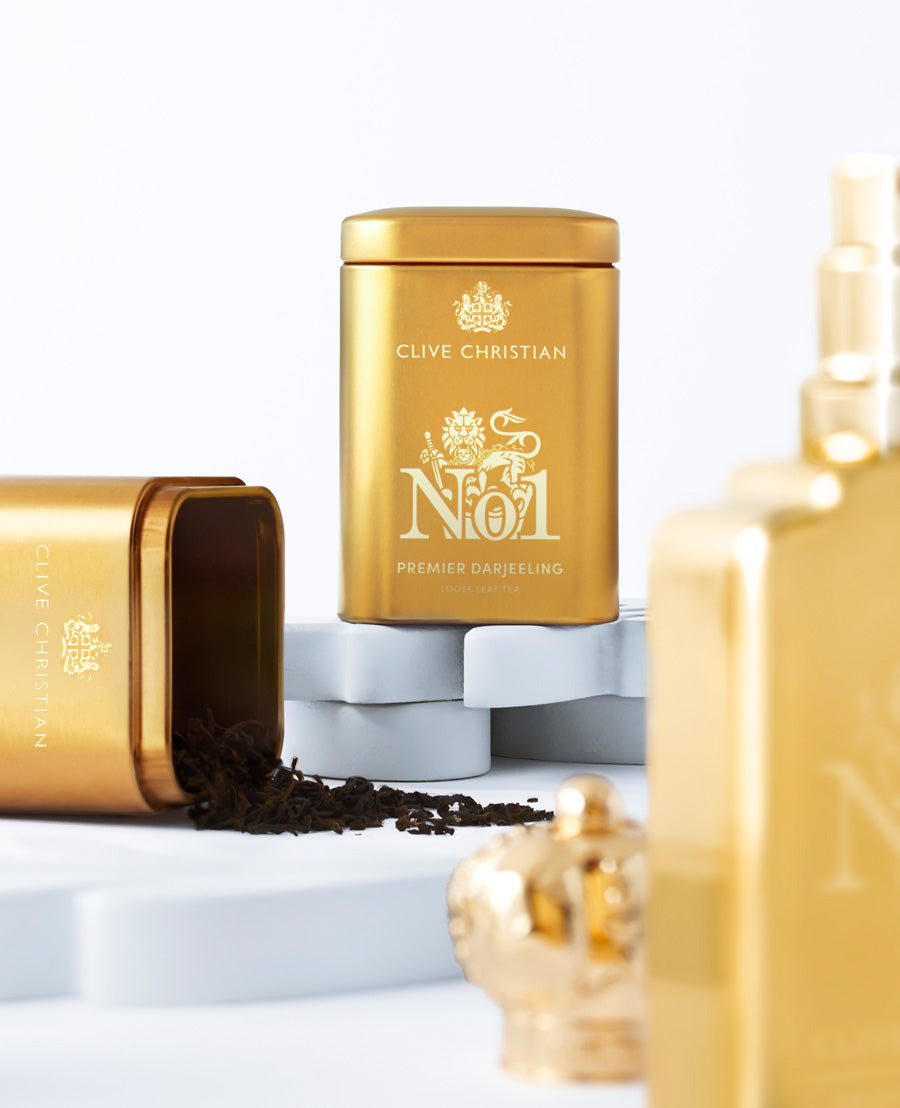 Premium Darjeeling Inspired By Clive Christian No.1
Darjeeling is renowned as the 'champagne of tea', so it's an ideal match for Clive Christian's most expensive, highest crafted scent: No.1.

Premium Darjeeling is made with tea grown at above 6,000 feet, blended with rare, spring-harvested green tea from China and natural clove essence.
The name 'Darjeeling' comes from the Tibetan for 'Land of the Thunderbolt', and the gardens in which it is grown have the stunning backdrop of Mount Kanchenjunga, one of the highest peaks in the world. Just 1% of Indian tea is produced here, but as with champagne the goal is quality over quantity.
Premium Darjeeling produces a bright copper cup, with fresh, fragrant notes of citrus and sandalwood that echoes the base notes of precious 50 year-old Indian sandalwood in No.1 Masculine.

Much like the tea, the No.1 pair of perfumes use the finest and rarest ingredients, creating a perfume truly worthy of its name.
Rose Earl Grey Inspired By Clive Christian 1872
A base of black Assam tea is subtly flavoured with French natural oil of bergamot and rose petals from India's Valley of Flowers, taking inspiration from Clive Christian's iconic 1872 perfumes.

1872 pays tribute to the year that Clive Christian's predecessor the Crown Perfumery Company was founded, when Queen Victoria recognised its contribution to British excellence by granting the use of the likeness of her crown as part of the design of its bottles.
That this tea is inspired by 1872 is fitting in that Earl Grey was a favourite of Queen Victoria.

The notes of French bergamot echo the light citrusy notes of 1872, and the Indian rose petals bring a softness much like the Rose de Mai in 1872 Feminine, one of the rarest ingredients in nature. Rose Earl Grey produces a full-bodied, balanced cup perfect for afternoon tea.
Assam means 'one without equal', reflecting the quality of the tea grown in the region, which is famous for its smooth, malty flavour and mellow amber colour. The tea's namesake is the second Earl Grey, fabled to have invented the blend in the early 1800's, although the truth is that nobody knows the true origins of this popular tea.

Rose is one of the oldest floral tisanes in the world, referenced in literature, music and art for centuries. Aside from the delicate aroma, rosebuds contain high concentrations of vitamins, C, A and E as well as iron and calcium. It takes 170 Rose de Mai heads to create just a single drop of absolute oil, which Clive Christian uses in its perfumes.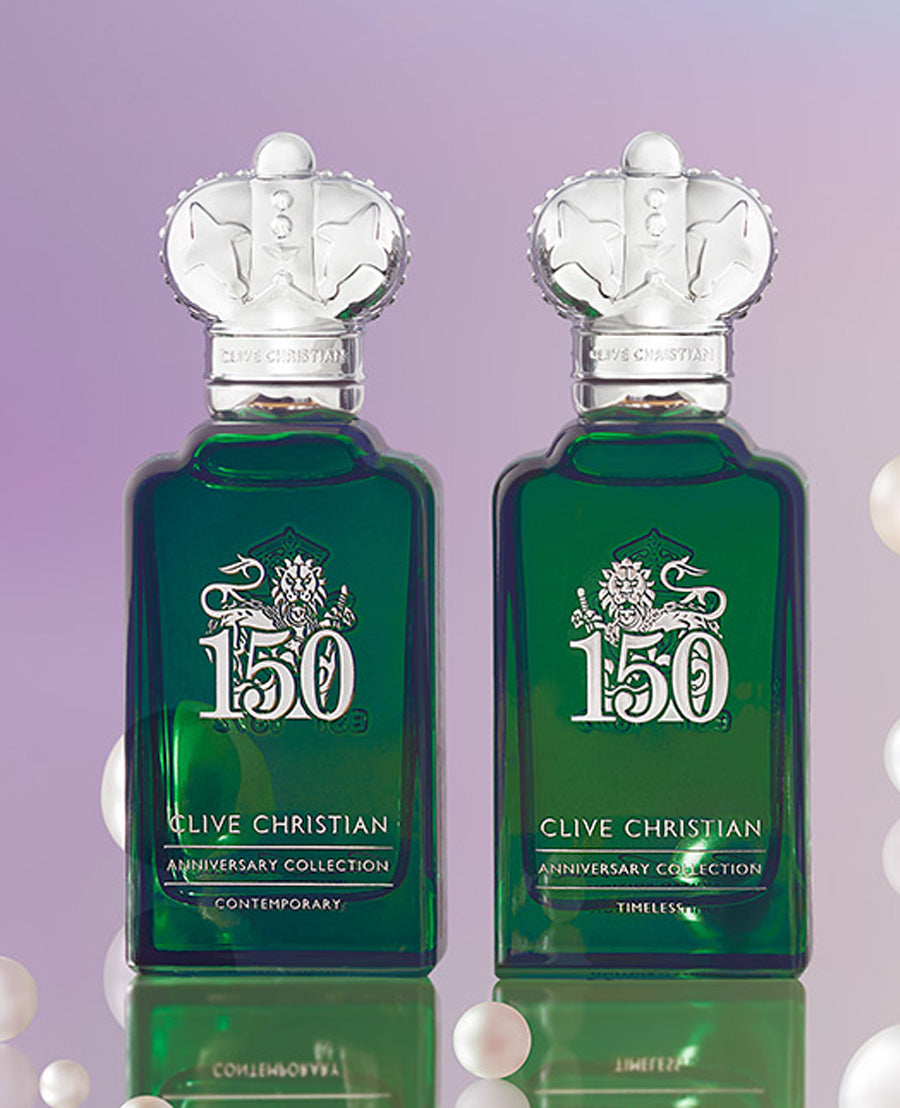 CONCLUSION
This special collection of unique teas has been carefully curated and blended by Newby Tea's masters to appeal to Clive Christian's discerning clientele. Those who appreciate the highest quality perfumes featuring the rarest, most precious ingredients are sure to enjoy the tea equivalent, inspired by favourite scents. These teas have been crafted as a special limited-edition gift for the holiday season and to celebrate the brands quintessential British heritage. Available for a limited time only with purchases on the Clive Christian website and in select stores worldwide.